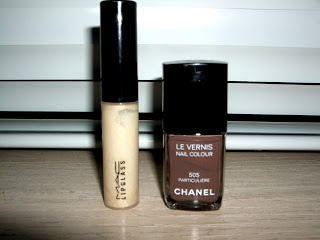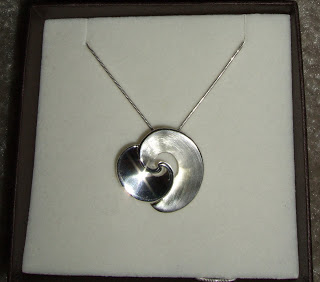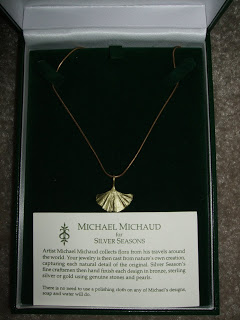 Having topped 100 followers not so long ago, I've recently been filled with lovely emotions of warmth and bliss (much like a post-chocolate endorphin hit, minus the guilt). Far better than the feeling of Lindt, though, is the feeling of loyalty. You 104 lovelies make my day, and constantly inspire me to share the things that fascinate me, and I always look forward to engaging with you through comments and visiting your blogs. I really enjoy sharing opinions with you guys, and meeting all you fascinating fashionistas. You are all so beautiful and talented, and I'm so grateful for every visit to my blog, and every comment that inspires discussion, which I believe to be the heartbeat of fashion today. So, thank you!
And what better way to express my gratitude than hosting a giveaway? Up for grabs this time: a package consisting of Chanel nail lacquer in Particulière, MAC Lipglass in Almondine, and your choice of either of the two necklaces pictured (a sterling silver spiral necklace from David Auker jewellery or a bronze-cast gingko pendant by Michael Michaud for Silver Seasons). The giveaway will run for one month and will close on February 28th at midnight PST, and the winner will be announced on March 1st.
Now, this ain't your average giveaway: as a gesture of gratitude to my wonderful 104 readers via Google (and 49 via bloglovin), the giveaway will be open ONLY to my current followers. I'm not looking to pull in more followers with the lure of the
awesome
prizes, but to say thank you to all my current readers who have been incredibly supportive and lovely. So, no newbies, sorry! However, if you're new to Obsessive Coolness, do stay tuned: I have a
very
exciting giveaway coming up soon that you
can
participate in.
So, down to the nitty-gritty. Here's what you have to do to participate in the giveaway:
1.) First, please vote for me in the Bloglovin Awards. Click
here
. This will take you to the Bloglovin Awards page for fashion bloggers. Fill in (takes approximately 1.5 minutes!) and, most importantly, when you get to the bottom of the page and find the type-in box called 'Blogger of the Year', type in 'http://theblogofobsessivecoolness.blogspot.com'. Then click 'Submit'!
2.) Next, vote for me in the Refinery29 Next Big Style Blogger competition! To do this, click
here
, then scroll down until you find the 'The Contenders' section. Find the words 'Page 1 of 11 NEXT' (directly opposite the 'The Contenders' & 'Show Your Love' slogans). Click on 'NEXT' until you reach page 7. Scroll down until you find my photo, which looks like this: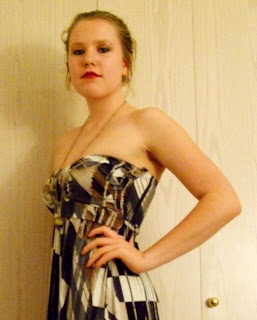 Then, click on the little pink heart directly under my photo. Follow the instructions and voila! You've voted!
3.) Leave me a comment on this post letting me know you've done steps 1 & 2. Remember to leave your blog address or email so I can contact you if you win!
And that's it! Thank you guys, and good luck in the giveaway!