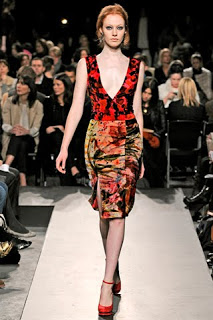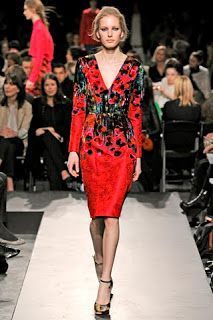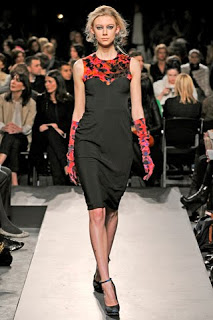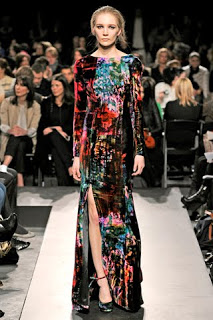 Sorry this update is so late - I spent last week pretty much holed up in a hotel room with food poisoning. Thankfully, I'd seen all my shows, but even being vertical felt like a challenge, so I'm afraid to say I neglected my write-up of Erdem in favour of peppermint tea and ginger biscuits all week! Anyway, here we are (better late than never eh!):
This Fashion Week, Erdem specifically referenced "painting" as one of the inspirations for his collection, and "the V&A" as one of the perennial influences on his designs – as if any of this required articulation. Looking at Erdem's pieces is, frankly, more like going to an exhibition than indulging your inner shopaholic: the pieces are so firmly grounded in classism (classicism?) that they feel like a work of art, an intellectual pursuit, rather than a guilty pleasure.
The most evocative element of the Fall 2011 collection was Erdem's trademark use of painterly prints. This season, [century] watercolours showed alongside [century] silkscreened prints, tapping into an altogether artistic vein of inspiration. As well as employing the more obvious use of prints to directly reference art and classicism (classism?), Erdem also embraced classic shapes and structure: high necklines, 1940's boudoir-inspired bodices, knee length pencil skirts on dresses and floor length pieces all made an appearance, a beautiful reminiscence on past but immortal styles in both art and fashion. The collection was modernized for the woman of the present by the occasional plunging neckline or just-above-the-knee slit, resulting in an aura of immaculate, rather than outdated, good taste.
Erdem is always one of the prettiest shows to watch, and this season was no exception. What transformed the collection from a habitual pleasure into a standout, however, was the more blatant than usual blurring of the lines between art and fashion, resulting in something more than just clothes. I'm going to have to call my art curator – she's got competition.
All images: style.com. (Good news – I've decided on a new DSLR, at last! Good, original photos coming soon!)