Well, I can deny it no longer: the holidays are here. Christmas, in particular, is fast approaching, and bringing with it the sensation of impending doom and the Nightmare Before Christmas: credit card hell. "With a look at bank statements and a sense of great alarm, I have seen grown men give out a shriek. With a wave of my hand and a feather, understandably, I have swept the very bravest off their feet."
While it is extremely difficult to divorce ourselves from this mindset at this time of year, I think it is particularly important to in our day and age. Times are hard enough, in my mind, without poisoning what has the potential to be a truly beautiful time of the year. It is now that we should be forgetting, or at least trying to see beyond, our earthly troubles, focusing instead on the enduring qualities of friendship, love and family.
So, in the true spirit of the holidays, I am putting together a slightly more 'spiritual' post than usual. I proudly present to you my Christmas wishlist. Here's to friendship, love and family. I'll raise a glass of eggnog to that!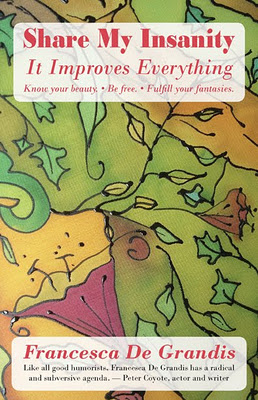 Francesca de Grandis is…a mystic. A comedienne. An enlightened soul. A non-dogmatic, non-evangelical, all-loving, most-everything-knowing, down-to-earth, hilarious spiritualist. Her writings are never dogmatic, do not talk down to the reader or dare to presume to, gasp, tell you what to do. Instead, they encourage, uplift, spark curiosity, inspire, and just make downright sense. Her newest book,
Share My Insanity
, is perhaps the most approachable, especially for those who do not identify with any one religion, or the concept of religion, per say. The words within the pages do not speak so much to faith or belief, let alone declare-your-allegiance-or-become-subject-to-Dante's-inferno. Instead, they focus on, true to the book's subtitle, knowing your beauty, being free, and fulfilling your fantasies. Talk about a holiday trio! Buy the book
on Amazon
.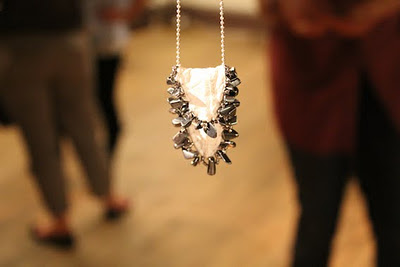 VK Lillie is a design duo made up of mother and daughter Vanessa and Kira Lillie. Vanessa, the inspiration, has been making medicine bags since Kira can remember. Now Kira has taken the concept to a whole new level, producing the bags in vintage glove leather, fringing them with crystals and stringing them on gold or silver chains, creating exquisite and unique necklaces. But here's the kicker: the necklaces aren't just pretty, they're spiritually practical as well: each medicine bag, which is hand-crafted and utterly unique, comes equipped with seven semi-precious crystals designed to remedy the ills of everyday life. I'll take them all, please. Check out the collection at
VKLillie.com
.
Photos:
Amazon.com
,
heartymagazine.com
and
dianepernet.typepad.com
.