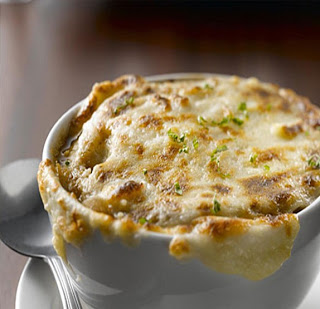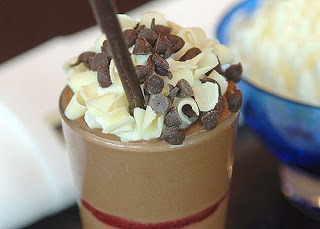 My recent stay at the Atlanta Omni hotel was made all the more magnificent by the fare from the Prime Meridian restaurant. Each course was a delight, and I have nothing but high praise for the place (and the chefs!).
Appetizer: Baked Vidalia onion soup with sourdough croutons & Wisconsin Valley Gruyere cheese
Both a sophisticated dish and a nourishing country pleasure, the onion soup is rich, sweet, deep, even overwhelming. The gruyere mellows the dish and adds nuttiness, while the sourdough provides a hint of down-home mamma's-kitchen salty goodness.
Entree: Pan seared woodland mushroom salad with a garlic-shallot vinaigrette
The delicious mushroom takes center stage with crisp smaller pieces bursting with woody juices and larger, tender pieces that taste much like chicken, except with an added nuttiness. The vinaigrette is light and barely there, allowing the mushroom all the (deserved) attention.
Dessert: "Sinless" chocolate-raspberry mousse served shooter-style
It would be a crime not to mention the presentation: a milk chocolate mousse served in a small shot glass, shot through with a ribbon of raspberry sauce and topped with a milk chocolate stick wrapped in thin raspberry ribbons. The mousse is of a thicker texture than expected, making for a smooth, melt-in-the-mouth, substantial sweet. Decadent!